Have you thought of using Point of Purchase (POP) displays to promote merchandise or special offers at the checkout stand or in key areas of your retail store? As you know from being a shopper, attention-grabbing retail POP displays highlighting products or offers can improve your shopping experience. That's not all POP displays do.
POP Displays Increase Brand Awareness
POP display printing that includes your company's logo and product brands increases recognition of your company. The more often your brands are recognized, the more likely customers will choose your products in the future.
POP Displays Create Differentiation
Print displays can differentiate your products and company in the marketplace. Through creative design and unique product positioning, you can set your brand apart from the competition.
POP Displays Can Be A Bargain
Retail POP displays are an economical marketing tool that significantly impacts sales. Compared to other forms of advertising (e.g., TV, radio, billboards), POP displays are affordable and can be targeted directly to customers at the sales counter.
POP Displays Increase Store Sales
By showcasing products in an attractive and eye-catching way, POP displays can drive sales and increase revenue.
What's a Typical Custom Retail Display?
If you have a retail store of women's accessories (e.g., handbags, scarves, jewelry, belts, sunglasses). A custom POP display can illustrate how to tie/wrap scarves in ten ways to accessorize an outfit. At the checkout counter, additional signage can promote a buy-one, get-one-free offer on scarves or promote scarf rings or clips.
If your store bakes and sells cookies, customized signage on the display case or counter could feature a special offer for the cookie of the month.
There is an assortment of print displays (e.g., shelf stoppers, freestanding displays), but they always showcase a product, dispense a product, or provide product branding.
What Kinds of Retail Print Displays Are There?
Many types of POP displays can be used to showcase your products and to increase sales. Here are the most common examples.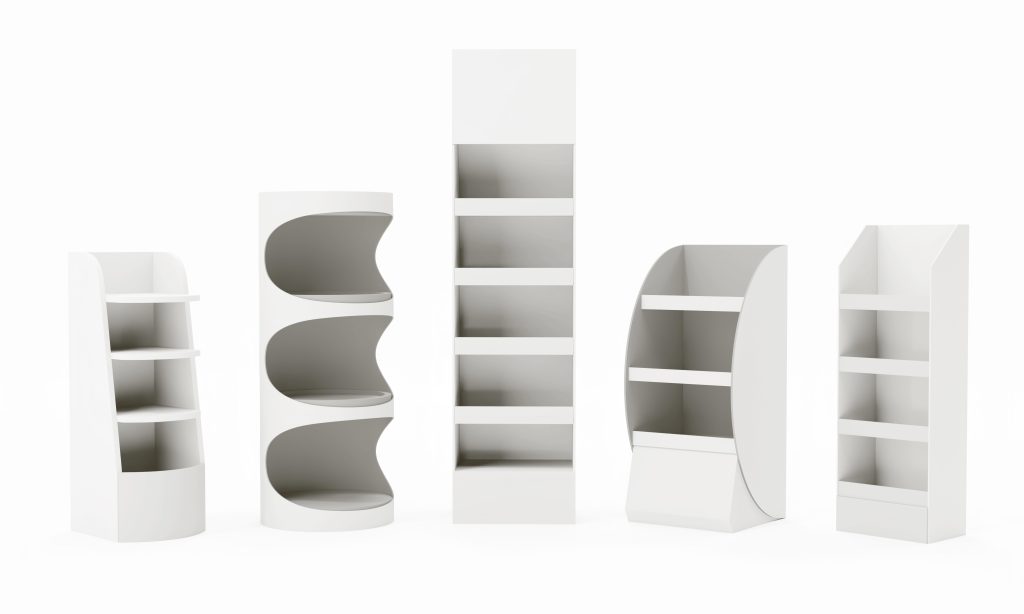 Counter Displays. These are small displays that rest on the checkout counter and showcase small items such as candy, pens, earrings, and batteries.
Floor Displays. These are large, constructed displays that stand on the floor and hold a specific quantity of products. They are often used to display seasonal items such as holiday decorations and summer toys.
End Cap Displays. The POP printing is placed at the end of a store aisle and shows off products related to that section of the store. For example, an end cap display in the athletic shoe aisle might feature athletic socks.
Pallet Displays. These are large displays that are placed on pallets and can hold a significant number of products. They are used for heavy items, such as bags of pet food.
Power Wings. These are displays that attach to the side of a shelf and extend outward, creating additional space for products. They are often used for small products like travel-sized toiletries.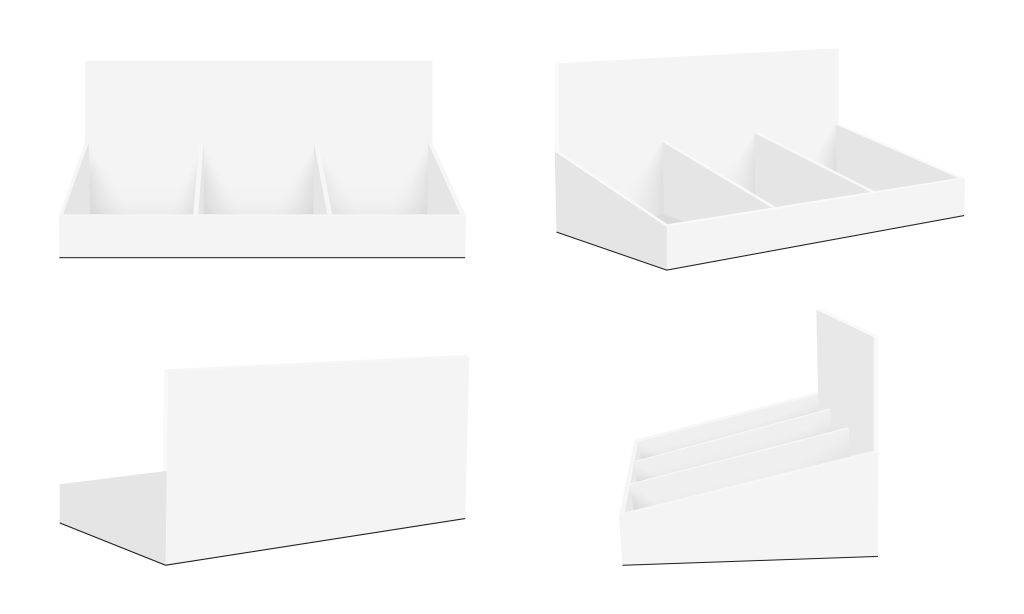 What's the Permanence of POP Displays?
The permanence of POP displays depends on several factors, including the type of display, the materials used, and the location of the display.
Some print displays are designed to be temporary, such as seasonal displays or those for limited-time-only promotions. These displays are typically made from lightweight material and are designed to be easily assembled and disassembled.
Other POP printing is designed to be in place for longer periods. Regularly stocked products would have more permanent POP displays. These displays are made from durable materials and are designed to withstand repeated use and handling. These displays can be designed to be easily updated with new information or graphics.
Permanence for any POP display depends on the specific display and the intended use.
How Can POP Displays Increase Conversions and Average Dollar per Transaction?
The use of POP displays creates a more engaging and convenient shopping experience for customers, and that results in increased conversions and Average Dollar per Transaction (ADT).
Getting Customers' Attention. POP displays can tempt customers to make impulse purchases or add a single item to their basket.
Providing Information. POP printing can provide information about a product (e.g., features, benefits, recommended uses) that increases the likelihood of the product being purchased.
Creating Urgency. A sense of urgency can be created for limited-time offers, new products, or special promotions. By creating a sense of scarcity or exclusivity, customers can be motivated to take advantage of the promotion.
Upselling and Cross-selling. POP displays can be used to showcase complementary products or accessories that customers may have not considered. By suggesting related items, customers may be more likely to add them to their basket and increase the average dollar per transaction.
Accelerate Print Group – Your Partner for POP Displays that Convert
Accelerate Print Group has the industry experience that enables us to easily grasp your goals and then find the right solutions to help you meet them. We provide a variety of traditional print solutions that can help your business succeed, including POP displays.
Whether you're a big box retailer, convenience store, grocery, club store, or another retailer, we'll provide expert guidance from design to delivery on custom POP printing solutions. We'll manage POP printing for any retail application, any size promotion, and any substrate.
Powerfully catch your customers' attention with retail displays at the point of purchase, whether advertising a short-term promotion or providing evergreen details about your brand.
POP Display Capabilities:
Variety of large format digital, lithographic, flexographic, and screen-printing options.
Printing on substrates, including paper, plastics, acrylics, wood, glass, fabrics, or synthetics.
Conventional and digital die cutting, flatbed router cutting, prototypes.
Co-packing, building, kitting, warehousing, and distribution.
We've fine-tuned our fulfillment processes, making us both prompt and precise. This allows you to be ready for your next advertising campaign sooner. Let us know if we can help your business with POP advertising displays.

Next Steps for Your Retail Display Needs
Now that you have a better understanding of the importance and versatility of quality retail displays, you might be wondering about other ways to enhance your brand's visibility and customer engagement.
1. Custom Printing Services: Beyond retail displays, there's a world of printing possibilities to explore. Whether it's brochures, business cards, or custom packaging, our commercial printing services can cater to all your needs, ensuring consistency in branding and quality.
2. Promotional Products: Another effective way to keep your brand at the forefront of your customers' minds is through promotional products. From branded apparel to unique giveaways, these items can leave a lasting impression. Check out our range of custom promotional products to find the perfect fit for your brand.
Remember, every touchpoint with your customer, be it through a retail display, a printed brochure, or a promotional product, tells a story about your brand. Make sure it's a story worth telling. Reach out to us today to discuss how we can help elevate your brand's presence in the market.